[Raw] Tsubasa Shunraiki OAD 1 - Clamp ~news and releases~ Now
Welcome to a CLAMP lj community that is focused on the news and release information regarding their manga, Cardcaptor Sakura, Tsubasa, GATE 7, Drug & Drop, xxxHOLiC and whatever other mischief CLAMP gets into. Enjoy!
(As of 1/1/2017, this community is on hold, posts will be moderated and likely ignored. Thank you for the many years of fan-conversation and support).
~Upcoming manga~
Tsubasa World Chronicle - monthly (on hiatus)
GATE 7 - monthly (on hiatus)
Drug & Drop - monthly (on hiatus)
xxxHOLiC Rei - sorta monthly
Cardcaptor Sakura - monthly
Alternative CLAMP NEWs Links:
Twitter
Blogspot
DW
17 March 2009 @ 08:32 pm
[Raw] Tsubasa Shunraiki OAD 1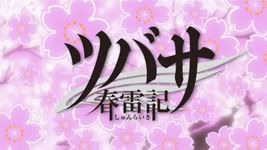 Q-R torrent
- 235mb mp4

SS
thx to
mindy_mousie
FF
thx to
crofe_sima
MU
thx to
kurotsukih